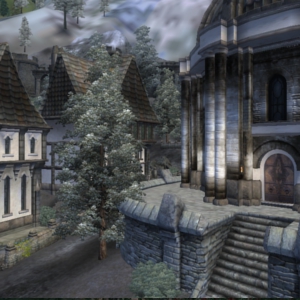 Sancre Tor is a fairly large village wonderfully situated in the Jerall Mountains. The village is comprised of many buildings including shops, residences and official buildings. The Temple of Light complex is the largest structure with the most quest related content and will be addressed first. For local area maps, the people register and photos of locations see the handy links listed at the bottom.

The Temple of Light:
Sancre Tor Temple of Light Entry
Cafeteria Requisitions
Entry Hall
General Barracks Requisitions, Basic Training, Master and Apprentice
Battlemage Barracks
Hall of Enlightenment (dojo) Basic Training, Master and Apprentice
Hall of Masters The Isle of Half-Light, Trials by Blade, National Treasure Hunt, Phoenix Hunt
Archives The Isle of Half-Light
Hall of the Fallen Blades National Treasure Hunt
Master Ante Room
Master Barracks (Residential Hall)
Arboretum
Battlemage Barracks
Secret Passageway
Brig A Cat in the Cradle
Artesian Steel
Tomb of Honors
Blades Court:Edit
This is where the Grandmasters congregate when discussing business. The court is visited by Grandmasters Ardartas (Grandmaster), Denrau (Grandmaster), Iaver (Grandmaster), Jauffre (Grandmaster), Masaru (Grandmaster), Nobuo (Grandmaster), Omroth (Grandmaster), Raori (Grandmaster) and Eliot Thierney (Grandmaster). Call to Cloud Ruler, Basic Training, The Oracle's Fire, Trials by Blade National Treasure Hunt
Hall of Requisitions: Edit
Manned by Markus Cantus, Rowan Odasis is first met here and Timothy Reider can be seen upstairs. Requisitions, Trials by Blade. Halls of Masters, Ante Room access is on the backside.
Merchants:Edit
Long Candle Tavern offers refreshments and beds. The hosts are Evan and Evelyn Reiss. Evan is an expert trainer in Speechcraft and has general refreshments while Evelyn rents the rooms. Samael Washington who participates in The Fire Warrior can be found here. Usual patrons to be seen are Jucanis and Cnisia Closius, Melina Jaston and Orin Scerius.
The Merchant Commons houses All Things Under the Mountain and Waysall Elixirs, hosted by Anya Farquor and Davin Ryke respectively. Davin Ryke participates in The Earth Warrior.
Golden Hill Market on the Plaza is operated by both Juris and Treya Weye taking turns as salesperson. Both are available to recharge magical equipment.
Gaia the Healer's House is where Grandmother plies her wares.
Places of Interest/items of note:Edit
A portion of the original Sancre Tor structure is on the eastern edge of the compound. Grandmaster Denrau can be found here during The Wind Warrior.
Cavalry Hill Farms, Sancre Tor is operated by Gretta and Hathe Sutton. However no sales are made here, all sales are at the Skingrad Farm
The four monks from Call to Cloud Ruler, can be seen in the Hall of the Fallen Blades of the Temple of Light
Kin'drava from A Cat in the Cradle can be seen serving his time in the Sancre Tor brig.
Residential homes:Edit
Nearby Points of Interest:Edit
Cavern of Trials
Further reading links:Edit
Community content is available under
CC-BY-SA
unless otherwise noted.