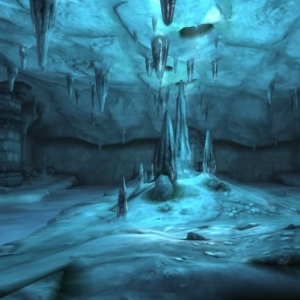 Gothcorga, land of Armored Bears and The Mountain Pass of The Oracle's Fire. The entrance to Gothcorga is at the top of many stairs and The Mountain Pass itself is a precursor of the bitter cold to come.
It is here one will meet Dr. Kamren Isentious, a biologist who is studying a bit far from his home in Grimm's Hollow. His journal can be found in an empty camp between The Mountain Pass and the Ice Palace of Gothcorga.
The grounds of the Palace are large and even more-so underground, the tunnel work in the ice and snow is quite extensive extending from the Entry Halls well into the Deep Hold and the Throne Hall of the Palace. The Gothcorga Sanctuary is on a hill above the Palace and holds the Accursed Man.
As well as the biting cold, Armored Bears and ice bears frequently make the journey extremely hazardous if not deadly. The Blade of Freezing Wind can be found here and its replica purchased from Cloud Ruler Shop.