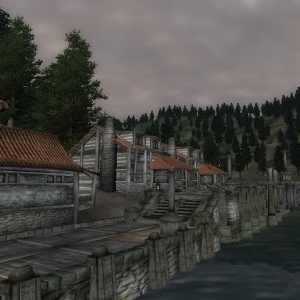 Cape Town appears much like any sleepy coastal village, but this one has a dark secret to share during A Spymaster's Apprentice.
Nightwind Estate might be a prominent feature in Cape Town, but it is not the only reason to stay awhile. Kratos runs A Taste of Morrowind and features many hard to get favorites, while The Seadog is located conveniently on the wharf.
Residents in town include Captian Gillean Slater and his daughter Willow Slater, Bard the Bowman who is the proprietor of The Seadog, Rugan and Constance Blythe and dear sweet Johanna. Zio the village beggar can be seen wandering around the wharf, Dain and Jossa are usually working in the vineyards and Hamma tends to A Taste of Morrowind's Shed.
Nightwind Estate is available as a player home upon completion of A SpyMaster's Apprentice and features elegant appointments with ample display cases and storage.